Banner art by Chelsea Sprauer
Everyone's heard of Sherlock Holmes and Dr. John Watson, but how much do you really know about the residents of 221B Baker Street? In addition to four novellas (one of which we covered at GUY.Com), Sir Arthur Conan Doyle wrote five collections of 56 short stories starring the world-famous detective and his faithful associate. We'll be spotlighting 20 of them, to get you caught up just in time for Sherlock Holmes: A Game of Shadows. All of these stories are public domain, so find a free copy online and read along!
The Adventure of the Dancing Men
Found in: "The Return of Sherlock Holmes"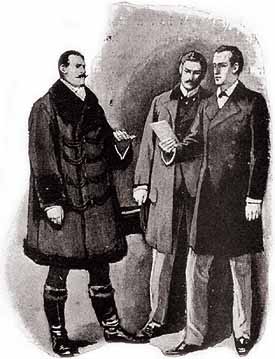 The Case: Through mail and by graffiti, drawings of stick figures have been finding their way to the home of Mr. Hilton Cubitt. He seems to think that it's some kind of childish prank, but his newly-married wife is deathly afraid of them. Mrs. Elsie Cubitt won't say a word on the matter, so Hilton sends word to Sherlock Holmes, who finds that these pictures are much more perilous than meets the eye.
The Solution: *The stick figures are a code. They were used by an American gangster to contact his old flame, Elsie. They had finally agreed to meet so that Elsie could try persuading her former lover to go away, until Hilton intervened with deadly consequences.*
Impressions and Fingerprints: At the beginning of the story, we learn that Watson keeps his checkbook locked in one of Holmes' drawers. Many commentators have used this observation as evidence that Watson had a gambling addiction at some point, and this interpretation was appropriated for the 2009 movie.
This story is also quite unique in that it serves as a practical introduction to code-breaking. Holmes' solution of the case and the pictures of the dancing men are both presented in such a way that it's particularly fun to follow along.
Is it still worth it? The story is structured in such a way that it presents two great mysteries for the price of one. It's a very entertaining read that's definitely worth a look.
Part 20: "The Last Bow"
Part 19: "The Adventure of Shoscombe Old Place"
Part 18: "The Adventure of the Mazarin Stone"
Part 17: "The Adventure of the Abbey Grange"
Part 16: "The Adventure of the Dancing Men"
Part 15: "The Adventure of the Empty House"
Part 14: "The Final Problem"
Part 13: "The Naval Treaty"
Part 12: "The Crooked Man"
Part 11: "The Reigate Puzzle"
Part 10: "The Greek Interpreter"
Part 9: "The Musgrave Ritual"
Part 8: "The Adventure of the Speckled Band"
Part 7: "Silver Blaze"
Part 6: "The Five Orange Pips"
Part 5: "The Adventure of the Copper Beeches"
Part 4: "The Boscombe Valley Mystery"
Part 3: "A Case of Identity"
Part 2: "A Scandal in Bohemia"
Part 1: "The Red-Headed League"