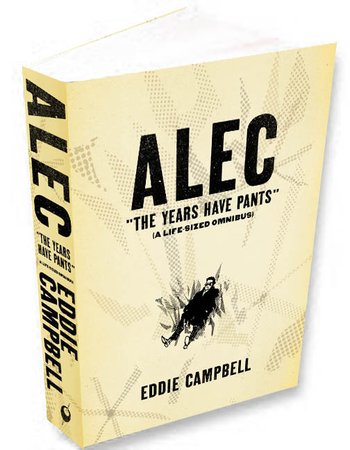 Eddie Campbell*. For those of you that do not know him, Mr. Campbell is the artist responsible for bringing Alan Moore's massively daunting From Hell** into the visual medium. Mr. Campbell is one of the stalwarts of the 80's and 90's underground comics scene, contributing other classics such as Bacchus and several of Alan Moore's 'illustrated' lectures, The Birth Caul and Snakes and Ladders (the latter of which, I believe, was performed to an assembly of the Order of the Golden Dawn sometime during the last decade). In the tradition of all of his work (most especially From Hell), Alec "The Years Have Pants" is an amazingly ambitious tome chronicling the passage of an ordinary man's journey through life.
The beauty of Alec is Campbell's wonderfully comprehensive biographical content; he mentions several times throughout the first few chapters (I'm ~100 pages through this 600+ page monster) how he became known amongst his friends as a sort of chronicler, always sketching scenes from their lives or eventually buying a camera (which said friends eventually became used to and stopped 'posing' for) to chronicle their existences at work and at play. Alec is filled with not only the major plot points of a life lived but also a lot of the minutia and nuance that makes friendships, lovers and acquaintances so stoically our own perceived experiences and seemingly non-transferable to other people in so far as their experienced value. But Mr. Campbell transfers it so he does – he makes it so the person he bumps into in a pub once and then meets again several weeks, months or years later strikes us in the same phantom-like way that they struck him at the time. We all have stories like these in our lives; they make us the 'star' of our own show. Whereas the writing down and presenting of these often strange and small events could easily come off as narcissistic in the wrong hands Campbell delivers them with a charming and often enduring non sequitur flourish that pulls the reader through the pages and, consequently, the years of his life and the outskirts of their own, from the 70's up through the modern day.
Perhaps the facet of Alec I find so charming is the simple transmutation of British pub life. Although endangered now the Pub or Public House has been a staple of British communities – from major cities to small, often rural towns – for hundreds of years. The pub has acted as a backbone to social change and stratification, so that through works such as this, or Irvine Welsh's, Martin Amis' or even a film such as Anton Corbijn's Control we get a very immersive view through the characters' comings and goings, which often teeter around the pub as a community center. Having spent some time in Britain and Ireland, major cities as well as some more off-the-beaten path kind of places such as Drumcondra (there's a story), Stirling and what I think was Lacock village, England (not far from Bath), often turning daylight into dusk in some of the small community pubs therein, I've experienced a bit of this community feeling first hand. Maybe it is just an outsider's view (you usually do not stay an outsider for long) but these experiences were magical, and Alec brings this quiet and endearing magic – this tradition – to the forefront of a memoir that is funny, strange, and at times dramatically poignant, and always well worth a read.
Available from Top Shelf books for a mere $35 – not much for a lifetime's worth of story.
…………………
*Mr. Campbell's Blog: http://eddiecampbell.blogspot.com/
** If you haven't read From Hell, don't judge it by the movie, which if I remember correctly was okay. The book is insanely researched, right down to Campbell apparently either going to places and drawing them or researching what they used to look like and drawing them from old photos and descriptions. The Hughes Brothers flick was just not even in the same ballpark – it was a movie. The MASSIVE tome that is the From Hell b&w graphic novel follows Jack the Ripper, who Moore posits is one William Gull, Chief Surgeon (if I remember his title correctly) to the Royals. He is brought in to tidy up a potentially embarrassing situation when a Royal knocks up a Whitechapel Prostitute. Little do the Royals realize that Gull takes the job seriously because he is involved in an intricately savage ritual working whereby his surgical slaughter of several women is meant to bring about a completely masculine, warrior society. Moore goes so far as to juxtapose the Ripper ritual killings with the birth of Adolf Hitler and several other key events that would go on to shape the twentieth century and, arguably, fulfill his dark intentions.