I had previously attended a really shitty little convention a few towns over, and this was last summer. I was charged $25 for what was amounted to mostly local comic shops hawking not a lot of really great stuff.

The comic shop that I frequent (It's a great little joint called Comics Unlimited) was there, and later on (much later, as it was already this year), when I told them about how it was a disappointment, one of the owners told me about a new Con starting up in Austin called Wizard World Con. I was quite excited about it, as when I read the guest list, it was going to have honest to God celebrities!

I told Vanessa about it, and she agreed to go, as her family lives a few towns over from Austin, and we're always invited to stay, so that was really awesome of them.

It was this past weekend, and I had a BLAST! For the exact same price of the other convention ($25) I was finally treated to the Nerd heaven that I was expecting. People in awesome costumes, and TONS AND TONS of comics and action figures.

I also got to meet some actors that I've idolized since childhood. First of all, I spotted Claudia Christian (of The Hidden, and Babylon 5 fame) walking around the Con, as I headed over to meet Ernie Hudson. He was one of the main points of me attending the con, as I wanted him to sign my copy of Leviathan, and I also wanted to get a picture with him. Got both of those, and even though it set me back a few bucks, I would do it again, since he was one of the nicest people I've ever met. I've heard horror stores about actors being assholes to their fans, and Ernie Hudson was nothing like that. He extended his hand to mine, and I shook it, and gave him my copy of Leviathan, to which he replied "Ah, Leviathan." in a warm and reminiscent manner. He was decked out in his Winston Zeddemore Ghostbusters outfit, and I bet he was happy to see someone bring something other than Ghostbusters up to him. I even told him it was stupid that he got killed off at the damn end of the movie. He agreed that it was stupid. I also got a picture with him that he signed.

I then went over and formally met Claudia Christian, and there's another tale.
She had finally set up her credit card machine, and no one wanted to use it. I figured why not, and SHE LIT UP. She was so happy to finally get someone to use it, that she gave me a free copy of the CD that she's just had made. I also got a picture with her (that she signed), and a signed photo of her from The Hidden. She was another class act just like Ernie Hudson.

Alas, even though I wish my story was about every celebrity being really nice, it's not. I then met Lou Ferrigno. My brother has been a huge fan of his for years, and I figured since he was there I'd get an autographed picture. He didn't looked pleased at all to be there, and when I went up to him, I didn't even get a smile from him. I picked a picture, he asked my name, he signed it, and that was it. I extended my hand to shake his, and that was that. He wasn't really mean or anything like that, but he could have been a bit more upbeat. I was paying him for an autograph. that should have been an incentive for service with a smile.

Later on, I met Walter Koenig and got an autographed picture of him, and for being a really frail looking older gentleman, he was all smiles and really nice. His table was next to Billy Dee Williams' table, and they were down the way from Adam West (who I saw) and Burt Ward (didn't see him). Walter Koenig was also on the other side of where Doug Jones (Abe Sapien from Hellboy, the contorting Ice Cream man from Legion) was. I didn't get his autograph, but he was being REALLY nice to everyone. Coming around from the table where he was at, and giving people hugs. He did make me laugh when he hugged a guy and said "Promise me you'll be a good boy from now on."

I got a mess of comics and 2 still packaged action figures. No tax on them, which made me even more happy.

As things wound down, Vanessa and I decided to leave, and along the way, she took pictures of me with various people in costume at the Con. She even got some video on her iPhone of a guy with a really neat Mario costume that was made with Yoshi around him, so it looked like he was riding him.

It was well worth the price I paid, and Vanessa had a great time as well. We're definitely going to go to it again next year when it happens again.

Here's some pictures from the Con.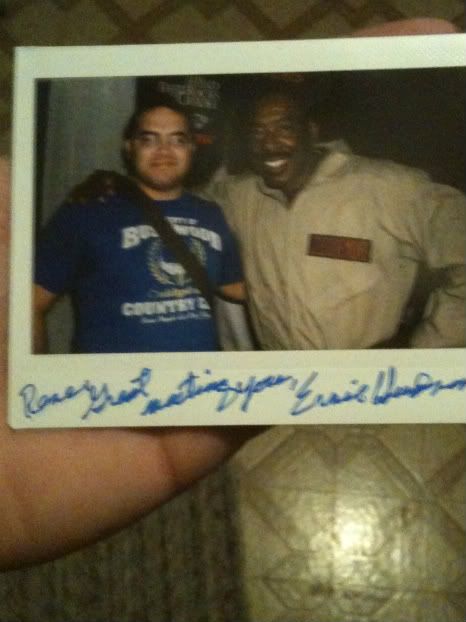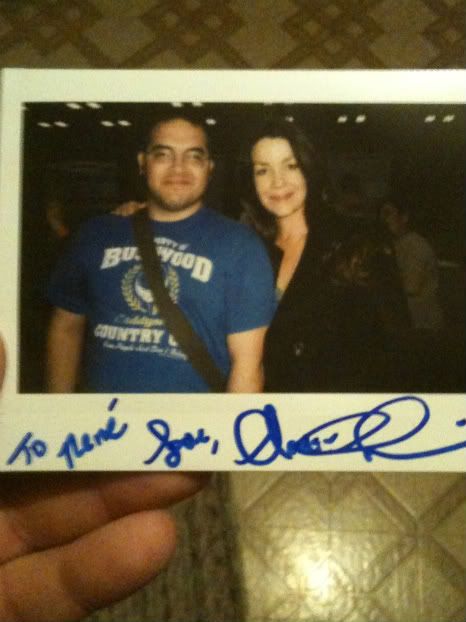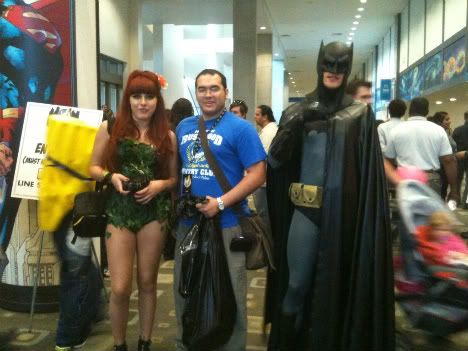 Rene's song of the day: "Cheese And Onions" by The Rutles.

Thanks for reading my blog and see you next time!