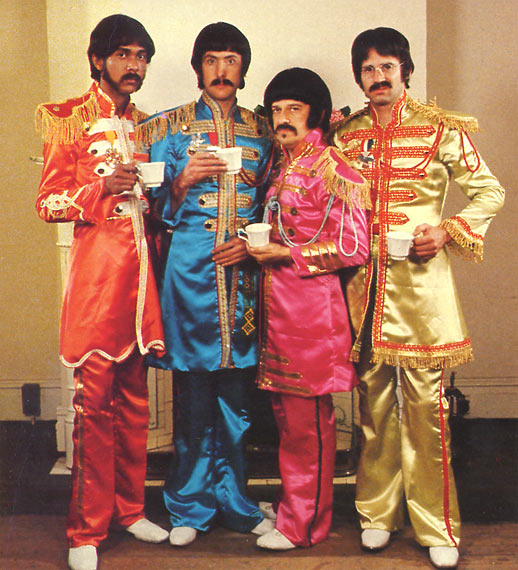 I had only heard of The Rutles. I knew that they were a parody of The Beatles, but then I found the dvd used at a pawn shop a few months ago, and I saw not only a hilarious movie, but a movie with honest to God great songs in it.

We get to see them with their start out in the beginning, and everything is a brilliant parody of The Beatles. A song called "Ouch!" is "Help!", "Get Up And Go" is "Get Back" and "Cheese And Onions" is supposed to be from "Yellow Submarine." There's also "Piggy In The Middle" which is an infectious tune, and is a take off of "I Am The Walrus". That and "Cheese And Onions" battle for being my favorite song from the movie.

Cheese And Onions in particular made me nearly fall over laughing because it begins off animated and has the YELLOW SUBMARINE SANDWICH, which is flying around, and has all the bizarre LSD inspired imagery that the actual Yellow Submarine cartoon had, but notched up.

Eric Idle is pretty funny, but it's Neil Innes who steals the movie as the John Lennon character, RON NASTY. Lennon himself reportedly loved the movie, and George Harrison even has a hilarious cameo in it.

I was quite surprised with the movie being as great as it was. Being a fan of The Beatles, it struck me even harder with all the carefully done humor. By the time the Yellow Submarine Sandwich was flying around with it's periscope made from green olives, I was busting a gut.

Come on, you know this is hilarious.




Just imagine that floating around a bizarre dreamscape. Not the dreamscape that Dennis Quaid and David Patrick Kelly duke it out on. A LSD infused dreamscape.

Then we've got the utter lunacy of the TRAGICAL HISTORY TOUR




And we've got a movie that you'll be watching over and over. It's a damn good movie in it's own right, and even before you're done with it, you'll be looking up the soundtrack so you can buy it.

Rene's song of the day: "Piggy In The Middle" by The Rutles.

Thanks for reading my blog and see you next time!