Before we get the ball rolling here, I should preface by saying I'm a HUGE fan of An American Werewolf in London, so obviously I'm very biased. AWIL is easily one of the greatest horror films (or just films) ever made in my opinion. Everything about it – the script, the performances, Rick Baker's Oscar-winning make-up, Elmer Bernstein's score, and, as always, John Landis' assured direction and his knack for marrying the right piece of popular music with the right scene to create a one-of-a-kind tone. I love it! I can honestly say it's one of the few films I watch at least once a month without fail. And, as I've stated in the past, I proudly have a framed poster for it hanging on one of the walls in my office.

So when I heard fellow journalist and filmmaker Paul Davis was embarking on an in-depth documentary entitled Beware the Moon – Remembering An American Werewolf in London, I was over the moon (bad pun intended). After the lousy special features Universal slapped on the DVD re-release of AWIL I always felt the subject warranted another look, and thanks to Paul we fans are finally going to get it.

I was lucky enough to have a brief chat with Mr. Davis recently, and our talk went a little like this:

CC: First off, I'm assuming An American Werewolf in London is your favorite, or at the very least one of your favorite movies. What was it that inspired you to revisit this classic in a more in-depth manner?

PD: Well, from what I can recall from my childhood An American Werewolf in London is my earliest memory of seeing a monster on screen – couple that with learning all about make-up effects and filmmaking thanks to the Making of Thriller and I was pretty much glued from there. I love horror movies. I was probably around three-years old at the time I saw it and, what I can say, it was one of those old VHS tapes that would eventually get worn out from watching it over and over. So it's always been a movie that I've been affectionate toward for a very long time, but it wasn't until I was writing a 25th Anniversary article on the movie for issue five of HorrorHound Magazine in 2006 that I truly got that spark again. I've always been a fan of in-depth, retrospective documentaries on classic movies – to see the cast and crew recalling their experiences on that particular film. It's always fascinated me, and after seeing the BBC-produced documentary on the making of The Exorcist 10 years ago, I knew that eventually I'd like to make my own documentary on a film that I love. Fast-forward a decade and a light bulb goes off while writing this article, and that's really where the project began to grow legs. I knew that if I didn't do it, someone would – and I've had dozens of e-mails from people during the production saying something to the effect of, "Damnit, I was going to do this. This was my idea!"

CC: How much time did you spend researching the project before moving into pre-production, then the eventual production?

PD: Getting the balls to actually do this was a big step for me. I spent three years studying a BA Honors degree in Cinema History at University of London, so I was surrounded by encouragement to jump straight into independent filmmaking, but the ideas that we were coming up with were pure dreck! (laughs). So although I've always wanted to go into filmmaking, I didn't just do it for the sake of doing it. I wanted to do something worthwhile. So rather than make bad short films I took to film journalism and wrote freelance all over the world for close to ten years. That time period for me was primarily networking. I met so many people that have been influential in my leap from critic to creator that when it came time to prep the documentary, I felt a lot better about taking the chance.

The two people who were majorly influential in pre-production were my partner turned co-producer Romy Alford and my good friend Anthony Bueno – who would go on to shoot and edit the project for me. I credit Romy in the respect that, in the past when I've said to a partner, "I'm going to do this, in that I want to achieve this and it's going to be great and…" and they'd roll their eyes and be like, "Here we go again…" – but Romy wasn't like that. If it wasn't for her love and support it really wouldn't have gone past the idea stage. With Anthony, that's a funny one because we'd only met as recent as November '06. He'd studied at the New York Film Academy and expressed interest in documentary filmmaking – after seeing one of his short movies, that was that. I wanted him to work on this with me. So anyway…that's the long version (laughs).

Pre-production began on January 2/07. I built a MySpace page, hyping the project, gaining public and fan support, etc. – and the response was overwhelming. The research element I'd pretty much already done with the article. I knew what I wanted to highlight in the documentary so really all I had to do was decide who I wanted to tell the story and how to find them.

CC: Who was the first person affiliated with An American Werewolf in London you contacted?

PD: The first person I remember contacting, ironically, we ended up not interviewing, was Albert Moses, who played the Sri Lankan hospital porter ("I'm an orderly, not a bleeding psychiatrist, I push things around!"). He was very nice and very gracious that we had asked him to take part and we set up an interview date with him, but somewhere down the line work committments prevented him from keeping the date and we tried to re-schedule, but we didn't hear back from him. It's a shame; he's a great little character in the movie, but at the same time by no means essential to what we were doing.

CC: What was his reaction initially when you told him what you were planning to do?

PD: I don't remember Albert Moses having a particular reaction, but other people we got in touch with such as Les Dilley (Art Director), Joe Ross (Special Effects Assistant) and Bob Paynter (Cinematographer) were really excited about it. I remember the general consensus among everyone I spoke to (mainly the British cast and crew) was, "About bloody time someone did this!" What can I say, I certainly thought so.



CC: What was writer/director John Landis' reaction?

PD: That's a funny story. I was fortunate that HorrorHound magazine had done some stuff with Mick Garris (Masters of Horror) and I knew that he and John were very good friends. I sent an e-mail to John via Mick, briefly highlighting what I wanted to do and dutifully Mick sent it to him. Fast-forward two days and the name "John Landis" appears in my inbox…I.SHIT. MY. PANTS! I mean, not only was I a fan of AWIL, The Blues Brothers, Trading Places, Animal House, but at the age of three, this is the first person I knew of as a director. Whenever I saw a "directed by" credit at the beginning of ANY movie I saw at that young age, I'd ask my mother, "Why didn't John Landis direct this one?" Literally, Landis' work and personality practically shaped my love of cinema and desire to get into the business – so seeing his name pop up in my inbox was a moment I don't think I'll ever forget. Anyway, so his response was, "I'm flattered, but why?" And you know what, I still haven't given him an answer to that one (laughs).

CC: How involved was John Landis with the production?

PD: Well, as you can imagine, John was pretty hesitant at first – and why wouldn't he be, some crazy kid from across the pond, who doesn't have any rights to the movie, wants to make a documentary on your work. It's understandable. However, John was kind enough to meet us in London, and we showed him 10 minutes of footage we'd already shot at that point – and he really liked it. He was constantly commenting on how slick it looked (considering the crew consisted of four people), various shots we'd done to match the movie, it was quite a thrill to be sitting there and have John Landis positively critique my directorial debut in its roughest form. From there, John committed to doing an interview, and we would go to his home in Beverly Hills and talk with him for nearly two hours.

CC: Was he able to open doors that wouldn't have been open to you otherwise?

PD: Absolutely. Not only was John influential in cementing cast involvement in the project, but all of the correspondence we have had with Universal Home Entertainment has been through Landis. He knows the right people and has a great relationship with them. Not to mention John was great enough to give us his time to attend the convention with us in Indianapolis last November. The project wouldn't be where it is now if it wasn't for John, and I have the pleasure of sitting down with him to master the finished cut later this year – that will be an experience!

CC: Any hesitation on anyone's part to revisit the movie?

PD: There was a little hesitation intially from David Naughton, but that's understandable. I mean, the guy has been doing panels on the film for nearly 10 years now at conventions and he has to tell the same stories over and over again, so why the hell would he want to talk to us? (laughs). It was Landis who eventually spoke to David at a convention in Florida and shot the interview (it's actually one of my favorite stand-alone interviews; David is so funny). There were others that just refused to get back to us, or kindly passed. Rik Mayall was VERY gracious that we had contacted him but was honest enough to state he doesn't remember a thing about working on the movie – but wished us all the best and wants to see it when it's done. I thought that was cool of him. Funnily enough, I though the hardest person to convince would be Rick Baker. I'd been told some horror stories by a couple of people who'd worked with him and I was stupid and naive enough to believe them. However, I'd met British effects artist named Mike Hall who resides in L.A., and he knows Rick rather well. Mike simply asked him and Rick said, "Of course!".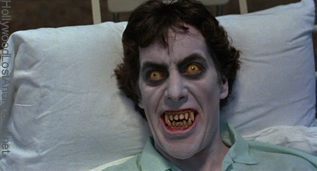 CC: Were there any stumbling blocks along the way that threatened to derail the project?

PD: Well, for months it looked like we were doing this American Werewolf documentary without the American Werewolf (laughs). I knew that was going to be a big issue if it came down to it, but as you know that resolved itself. As I mentioned earlier, I didn't have any of the movie rights to do this documentary, so the only major "Oh fuck!" moment we had was when Landis intially put me in touch with Universal and they passed. Determined not to give up I called the licensing department myself and inquired about getting the film footage myself. Needless to say, I couldn't afford it (laughs), but the charming young lady at Universal I spoke to was so nice after I told her my entire sob story about what we were doing and what had happened, and then SHE went and spoke to the right people. An hour or so later, I had a small e-mail giving me an address to send the finished piece, stating that they'd take a look at it and we'll go from there. The whole rights thing has been a mountain from start to finish, but I remain optimistic.

CC: What was the most surprising thing about the film you discovered while producing the documentary?

PD: The most surprising thing was something we didn't even get on film (laughs). I was having a conversation with Landis about British comedians and we got on the subject of the classic UK comedy duo The Two Ronnies (a national treasure in the United Kingdom) and he said that he offered the role of Inspector Villiers in An American Werewolf in London to the brilliant, late, great Ronnie Barker. I thought that was brilliant because I could see him in that role. Apparently, he turned it down because he wouldn't travel more than eight miles from his home.

CC: From treatment to final cut, how much time personally has this documentary take up of yours? I'd imagine every waking moment.

PD: It's been pretty non-stop on all parts considering we've all been juggling day jobs with it. Anthony (cinematographer/editor) is a professional editor, so his time has been very sparse – and he's done an amazing job. Half of the editing time on the first cut was done from my written instructions when I couldn't be there in person. I'd literally written the whole thing out in script format with every direction for the photos and clips, EVERYTHING. Then I'd come to the studio and we'd tidy up everything he'd put together from my script. We worked like that for like six months. It's not been easy, but we got there in the end.

CC: What's been the most gratifying or disappointing thing about working on the project?




PD: The most treasured thing to come out of this for me has been the people I've been fortunate to meet. I've kept in touch with a lot of people we interviewed such as David Naughton, Griffin Dunne, David Schofield, Les Dilley…and, of course, I'm still working with John (Landis) on getting this out there to the fans. Going to Rick's (Baker) studio was pretty amazing, too. What can I say? The whole thing has been a dream come true. I can't think of one disappointing thing during the production.

CC: How long is the final cut?

PD: The first cut we put together was about 105 minutes – which was great, considering I really thought my fist cut would be over three hours (laughs). I honestly thought it would go on and on and on…but I got all I wanted in that hour and forty-five. That one is now the "director's cut," that's the version I'm happy with. I showed it to Landis and he suggested trimming it slightly for pacing, so I dropped another 10 minutes – nothing essential, just stuff that was in there that I thought was "nice." So the final version will be about and hour and a half in length.

CC: What do you think people's reactions to the documentary will be?

PD: First and foremost, I'm a fan. Always have been and always will be. So I just made something that I would want to see. We already showed an hour of footage at HorrorHound Weekend in Indianapolis last November and that was amazing. The crowd was LOVING it, and it really made my heart race every time people clapped or cheered – something I hope to experience again when we premiere the full thing at HorrorHound Weekend in PA on June 20/08.

CC: Any chance of the documentary landing on future DVD editions of An American Werewolf in London?

PD: It's probable. That's all I'll say at this point.

CC: It's my understanding there's also going to be a 40 minute cut of the documentary for UK TV. How will it differ, other than the obvious time and content difference, from the "director's cut?" I read you were shooting some exclusive content that will only appear on the UK TV version. Tell me a little about that.




PD: That is true. It's literally just going to be a MUCH shorter version of the DVD cut with additional British celebrity talking heads in there such as the brilliant Edgar Wright (Shaun of the Dead, Spaced, Hot Fuzz), Joe Cornish (The Adam & Joe Show), Justin Lee Collins (The Bring Back Series, The Friday Night Project) and Emily Booth (Evil Aliens, Don't!). We've already shot Justin Lee Collins, the others we're just waiting for schedules to free up.

CC: All in all, has the final product lived up to or surpassed your expectations?

PD: I love it. And it's exciting because it's still unmastered – so it can be even better. This is my first film, so I really didn't know what to expect – but yeah, definitely exceeded what I thought it would turn out like.

CC: How does it feel now that production is coming close to an end?

PD: Well, I'm both excited and sad that it's coming to a halt. Sad obviously because it has been a huge part of my life for the past year, but excited because MY GOD have I got so many ideas for movies. It's killing me!!! I can't wait to write them. Also, and this is a CHUD EXCLUSIVE, right after the documentary I'm planning to do a "companion" for the movie . I have over 18 hours of interview footage, so many great stories that I couldn't get in the movie – I could get all that in a book. You think fans would buy a book on the making of An American Werewolf in London?

CC: Hell yeah! I know I would!

PD: I'd like to think so. As for my hopeful film career, I want to do a couple of shorts to show that I'm capable of running things behind a camera…after that, I've got a killer idea for a feature that I want to pen myself. Who knows what the future holds?

CC: When and where can fans expect to see Beware the Moon – Remembering An American Werewolf in London – both versions?




PD: For the foreseeable future I urge all fans that want to see this come to HorrorHound Weekend in Pittsburgh, PA on June 20/08 and see the "director's cut" for the first time EVER. Not only that, but John Landis will be there AND we'll be reuniting Jack & David (David Naughton & Griffin Dunne) for the first time at a horror convention! It's going to be a blast. Any kind of release is to be determined at this point. Watch this space.

A big thanks to Paul Davis for shooting the breeze with us.

In the meantime, if you're as amped to see this doc as I am I suggest to head on over HERE to get the down low. And for more info on Beware the Moon – Remembering An American Werewolf in London head on over to its official MySpace page.