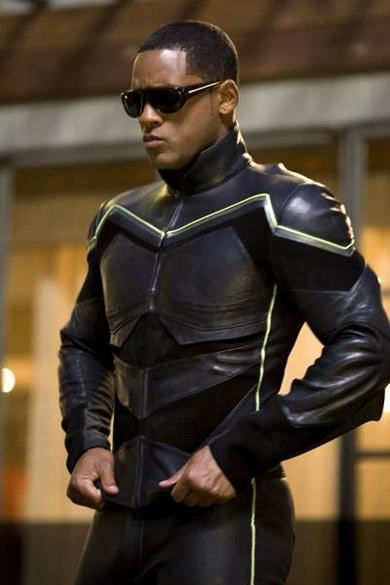 Since we've reached the really shitty part of the year, I've already begun to look ahead to the summer and all it has to offer us. Near the top of my anticipation list is Peter Berg's Hancock; I think the concept is one that, in the right hands, could work very well and provide a very entertaining trip to the movies.
Today we get a look at Hancock's costume (courtesy of Slashfilm), and I'm pretty satisfied with it. At first glance, it feels a bit derivative (I'm thinking X-Men), which I would say is appropriate given the subject matter. What I mean by that is that since the film is a sort of tongue-in-cheek look at a generic superhero, it makes sense Berg would want to evoke thoughts of other recent screen heroes.
I also like how Hancock's logo, the eagle, is on the back of the suit. I could simply be having a brain cramp, but I can't think of another superhero who wore his logo only on the back. It's a nice touch and another that feels appropriate for the film.
I'm going to go back to quietly anticipating this one over in the corner now.